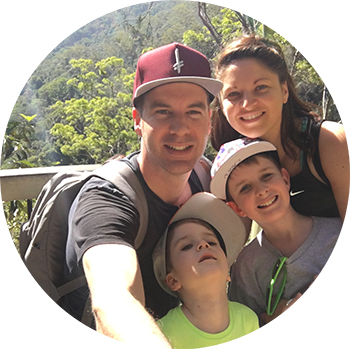 Raining.fm is a small project by myself Neil Lockwood. I live in Australia with my beautiful fiance Amy and my two amazing sons Caden and Tate. I would like to dedicate this site and app to them.
During the week I work in web development and in the evenings, I love to work on passion projects such as this.
I listen to the rain every night while I sleep and I find it useful for focusing at work. I could never find the perfect sound, so I thought, why not make it! And that's how Raining.fm started.
Acknowledgements
I would like to thank the following people for their awesome work, without whom this project would have taken waaay longer or might not look as beautiful.
Original Photo's "Venice Rain 2" and "Venice Rain 3" courtesy of my mate Lachie Millard.
Original Photo "Water on Wood" by Darren Brooks useage license here.
Original Photo "pitch" by Rashida S. Mar B. useage license here.
Original Photo "Raindrops in pond with waterlily" by Fokko Muller useage license here.
Loud Thunder audio sample created by raining.fm crew from a source track by Martin Lightning, useage license here.
Scott Schiller for his radical SoundManager 2 API, useage license here.
All other sounds recorded and created by yours truly.
Special shout outs to hackernews and stackoverflow for the constant feed of knowledge and inspiration.
I hope you enjoy raining.fm
– Neil